..in 1977
written and illustrated at the time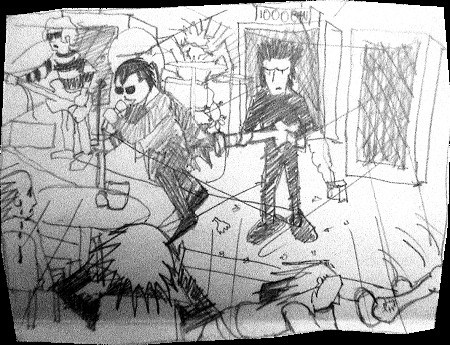 EXILED
..but first it all started one Friday night, November 1976..
THE DAMNED
were booked for their 10th gig at the bargain fee of 50 quid into the Royal Hotel. LUTON..
.. and the usual clientele, having been listening to a diet of bands doing covers of Steeley Dan and Eagles, were not impressed.
And threw stuff at them..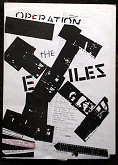 so feeling suitably inspired by this..






the Royal Hotel (public house) became home (on a Tuesday night) to the EXILES for the next few weeks. In no time we had a 40 minute set of short and fast songs.. interspersed with shorter and faster songs.
The first punk group in the town...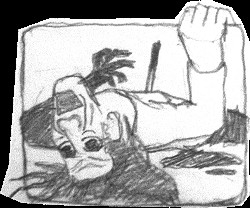 ..but there was rising violence at Luton's only venue..
..and finally a murder... a flare of tempers between 2 friends led to an inevitable and pathetic end to the Royal as a gig for us and other bands.
.. not that we gave a shit for the pit... or..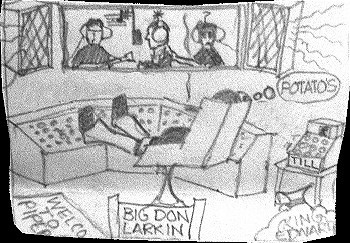 ..in January 1977 the band name was changed to
THE JETS
and set out for the first time in the studio. The first song we did was so short the studio crew (mocking us) thought it was an advert (yeah we got the joke.. ho ho). What chance had we?... absolutely none.
We had put the fate of our first recording in the hands of potato czar Don Larkin (hence 'Piper' (as in Maris) studios). With their flared jeans in full attendance and not having any idea what punk was... gave us a completely crap recording. Yes it sounded like an advert.
But we remixed it and tried to dirty the sound and with that went off in search of someone to hear it...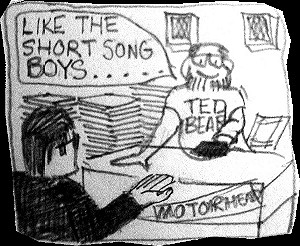 ..and
Ted Carroll at Chiswick
heard these first recorded efforts... and smiled
...and smiled
...and smiled
...and smiled
...and smiled
and..
and..
give it us back.
From then on we just posted it around a lot.
THEN..
THE FIRST
GOOD NEWS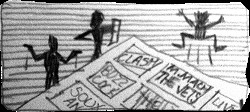 .. we see an ad for us to play the Music Machine and even rang 'em up to see if it was correct..."Yes be there" we were told...
THEN..
THE FIRST
BAD NEWS
.. on the night there was another group with the same name and it was their gig.. and we went home. Not happy. Things had to change..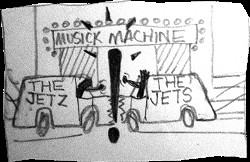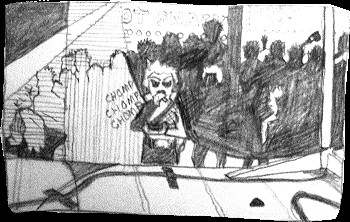 ..so by lying we scored a gig at one of London's best known punk venues
THE VORTEX
!
..the girl who we conned worked for KLIK RECORDS (a fast talking operation run by 2 mean black dudes). The 'booking girl' was looking for a "punky reggae band" (yuk).. so we lied.. for the first chance to play to a London audience. Wow.. very cool for us.. and very cool they were.. we watched a stoney faced punkette at the front eat her chip dinner... and thought about mutilation...
"Yawn.. oh yes y'know the singer cut his throat over my chips"....very passe I'm sure. What a morgue. .. we did get 10 quid though and we never saw the girl at Klik.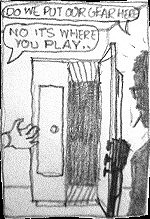 AYLESBURY GOES RANCID
with the help of local promoter and self appointed tycoon Chris France. Who had an empire of gigs for all aspiring funsters, if he liked you..
it was an artistic peak to see his wife reading a book while we raged on from the stage which was behind...
two large pillars!
watching dear Chris counting his evening profits was also very stimulating... knowing we weren't gonna get paid...
we often spoke his name..
between clenched teeth...
LONDON
was a no go.. 6000 bands & 6 gigs...
but the
ROXY CLUB
give us one
which had a style all of its own...

FIRST IN... FIRST OUT.... a valuable lesson.
THE COLLEGES
..
locally had been closed doors for 3 or 4 years
another stabbing had seen to that.. but an enterprising Student Union booked the Depressions and us at the Luton Tech College. (the Depressions being known at the time for the colour of their hair... and an eye patch.)
We played the end of our set to the police and fire departments..
summoned by our Depressed peroxide heroes..
surprisingly there was no stabbing.. the rest of the night was accompanied by a keen panda squad..
we learnt another invaluable rule...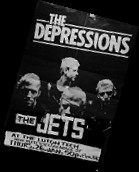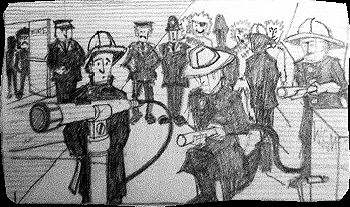 FIRST ON........................... FIRST OFF.
..and in an attempt to play as often as possible we took to turning up uninvited at local colleges in the the dinner break.. which went basically unnoticed until we turned up at the local sixth form college and met with total hysteria..
from the staff.
we didn't play... but it was a good gig... also attended by a panda squad.
THE ROXY DAYS
(Dec 77 - Apr 78)
The selection of the bands that finally were recorded for the album were picked over 3 separate dates. Each night up to 6 bands played to a less than ecstatic audience. On the last night we played there the band name was sprayed on the 'bog' (it really was) wall somewhat larger than the scatter shot of existing graffiti. Unbeknown to us this angst ridden wall was to be photographed for the back cover of the LIVE AT THE ROXY album causing a certain amount of miffness amongst a couple of the more competitive bands. Our name was rather the most obvious... unintentionally,
anyway after the beer swilled excess' of the recording nights those that had made it to vinyl were now invited to take part in the planned tour.. all 10 bands!. A prospect that was less than comforting..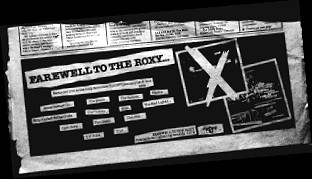 so while waiting outside the Roxy Club with 6 other motley bands (that did show) to go to Scotland on the ill fated ROXY TOUR to promote the album
..a big black limo pulls up...
WHO THE * * * * WAS IT ??.....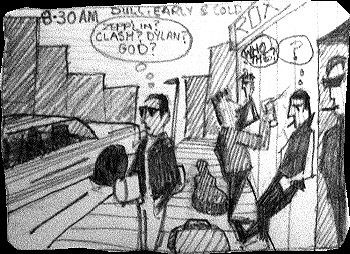 it could only be... THE UK SUBS.. of course (!!?) very punk (..mmm).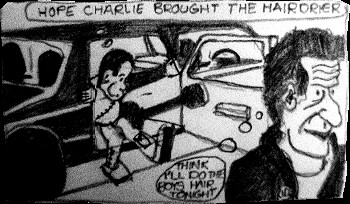 ..the Subs though, were decent enough guys (as were all the bands) and chatted amiably on the coach or rather the troop carrier that was required to carry us. Like some hedonistic school trip we all chugged off North of Watford..
..and after several hours of mind numbing boredom we arrived...
to find that our enterprising tour manager had found the cheapest possible accommodation. A YMCA hostel !..
which was now being invaded by 30 odd London punks. (yikes!)
the journey alone was worth it just to see the puzzled and incredulous looks on the faces of the bands as the Hostel 'keeper' explained we would be expected to take part in some 'choors' (or chores) to help keep the Hostel spick and span.
(..yeah right).

..the Roxy tour however, was unforgettable for two other reasons
The notorious club / tour manager KEVIN ST JOHN
and his henchman the enormous 'BLACK BILL'
(..and yes that is what they called him)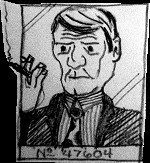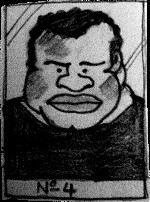 .. who, after a stage invasion by some less than cheerful members of the audience on one of the nights of a steamy Roxy 3 day event, Bill attempted to.. snap one of our guitars in half..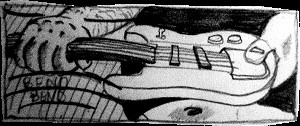 but then changed his mind... due to his attention being diverted by a stage invader.
later, on this tour to Scotland, Bill turned out to be one of the unexpected personalities we got on very well with...
..along with THE BLITZ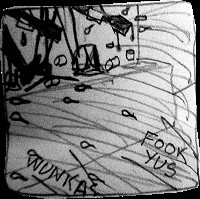 .. great guys who gave us a lot of laughs...
and who we will probably never see again.. Blitz seemed to have everybody's share of bad luck but had a riotous sense of humour throughout.. even if it was a little vindictive...... which was unlike the Scottish Punks, although their reputation was much revered by all present ('a cardboard box at the door read 'LEAVE YOUR KNIVES HERE'.. gulp).
But they were a great audience and were most responsive.. and gobbed on us for 40 minutes...
After all if it was good enough for The Roxy in London it was good enough for.....
.. we chucked stuff back.. as usual.. (sophisticated stuff y'know).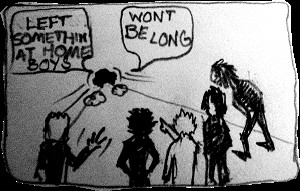 IT WAS A SHAME TO LEAVE THE TOUR SO SOON..
but not so soon as our master of ceremonies.. KEVIN ST JOHN
who promptly scarpered when the hostel boss was near coronary and the bills started coming in..
and who we never heard of again...
so farewell KEVIN ST JOHN..
the fucking pirate.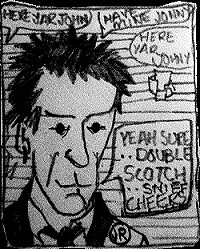 the last days of 77..
WHADYA EXPECT ANYWAY
when seeing 'the face' of the punk movement at the bar of the Roundhouse.. give 'em what they all wanted.. and take all they had.. 'cause there was nothing else to do...
.. we saw him again at the Vortex and nothing had changed for JR or the hangers on..
.. fell over Sid on the steps out.. he'd comatose in the most public of places... also bartered with Steve Jones for his clothing.. (unsuccessfully)
.. they all looked miserable ... y'could see why.
At St.Albans City Hall.. we spoke to Joe Strummer and he looked like a white riot had taken place.. on his face...
.."whadya doin' Joe?".. "everythin' all at once" might have been the answer... had he been able to speak.. but by now Joe had forgotten his name.
WHADYA EXPECT ANYWAY (2)
..
when you do a recording session and you meet South Woodfords answer to Tony Visconti and Prince Jammie..
yes that's.. Martin 'No Idea' and Julius 'Too Many'...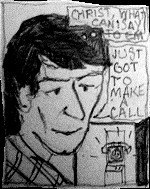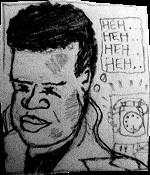 ... and you can expect them to piss off with the master tape of your 4 best songs.. never to see or hear of them again.
..it sort of summed it up nicely
THE END OF 1977