TWINWOOD AIRFIELD BEDFORDSHIRE. CONTROL TOWER & PERIMETER in 2000
CONTROL / WATCH TOWER (1)

The Control / Watch Tower of Twinwood still survives. The current owner has done a great deal to maintain and preserve what's left of the airfield buildings. A recent project turned the tower into a visitor centre and Glenn Miller Museum. (see COMMENT for web site).
A corrugated shed visible here alongside the Conrol Tower was used by a fire tender vehicle.
The building considered to be a hazard and safety risk due to its asbestos construction has recently been removed. Sadly this also destroyed some original WW2 graffiti and cartoons. Hopefully these have been photograhed for eventual display.
The Glenn Miller Band flew on to USAAF airbases throughout the UK from Twinwood, and in recognition of the service paid to them by the airfield personel the band gave a concert in front of the tower on 27 August 1944.
AIRFIELD PERIMETER (3)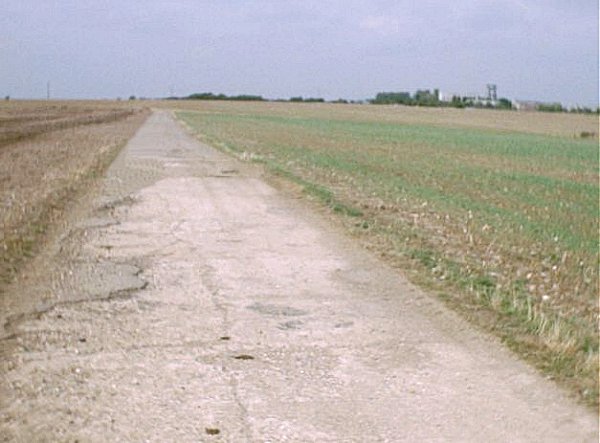 The width of the taxiway has now been reduced. The original width is approximately where the dark stain in the soil shows running parrallel on the left. This view is taken halfway along the 1km long strip running SE-NW.
The tarmac top to the runway has worn away leaving the concrete underneath visible. The seams of these rectangular concrete sections are still visible. Many similarly built airfields in the region were constructed by Laings