TWINWOOD AIRFIELD BEDFORDSHIRE. THE GLENN MILLER MYSTERY by HOWARD ROTH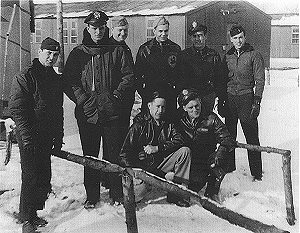 I was a B17 pilot with the 306th Bomb group at Thurleigh, a few miles north-east of Bedford. On December 14th 1944, a buddy Doug Schrack and myself checked in to the American Red Cross Officers Club in Bedford. That night we were having a few drinks in the dining room and sitting a few tables away was Glenn Miller and his aide. I told my buddy I was going to ask him for his autograph. He laughed and said "your nuts. A lieutenant asking a Major for his autograph?". He talked me out of it.
Now over 50 years later I find ex-Lancaster pilot Ron Brown's web page in which he mentioned an episode in Venice, Florida at Christmas time. He was waiting in line at the post office when at the front of the line an American [friend] called out "this is the Englishman that killed Glenn Miller!".
Ron declared how much he would like to be rid of this stigma.

THE BROADCASTS
The History Channel and public PBS channel have recently presented videos supposedly describing the events leading to Glenn Millers disappearence. Here are Fred Shaw's observations word for word from both videos.
History Channel
" I estimated his height at about 1500 ft. He was way below us. I looked down at him, I recognized him as a 'sort' of norseman because of his high wing configuration, his parallel wing chord and a ludicrous small tail plate and also a parallel chord. I watched him and he was going south towards our tail.
Anyway I watched the aircraft down below us and just before he got to our leading edge of our wing he vanished from sight. I saw him flip over to port he looked like he was going into a spin, he dived in and splash, then he disappeared under the wing."
The Public PBS
" I saw a film of Glenn Millers story and I remember the way the film ended, unfortunately I seem to know what happened to Glenn Miller. I saw an aircraft and as I was watching I see him do a stall turn to port and go straight into the drink there was a white splash and that was it.
I joined the RAF in 1941 as a pilot or navigator, apparently they thought I would make a better navigator than pilot so off I went to be trained as a navigator No.1 Central Navigation School in Manitoba Canada. On the 15th of Dec. we were briefed to attack the town of Siegen in Germany. It was our first operational flight. We got about as far as south of Brussels when we recieved a message to the effect we were to return and jettison our bombs in the English channel. I never seen bombs exploding from a plane before. I put my head in a little observation blister where I could look vertically down, there sure enough 4000lb cookies were exploding and I could see the blast waves were radiating outward. As I was watching the bomb aimer said "there is a kite down there", and I looked down and saw a small tiny high wing monoplane which I immediately recognized as a Noorduyn Norseman which I recognized because I trained in Canada and became familiar with the Noorduyn Norseman."

Derek Thurman reported no bomb explosions in his claim. He was a flight engineer on the same crew.
Why did Shaw in the THC say the small plane was a "sort of a Norseman" while in the PBA he immediately identified it as a Noorduyn Norseman? Why were there no reports of bomb explosions in the 'The History Channel' video?
Were there any explosions at all it would certainly have been against regulations. A bomb would have detonated on water impact and a monstrous bomb that size would have obliterated every thing.
I've subsequently read that a Mr Thurman (flight Engineer) sold his log book for 880 dollars. It's seemed ludicrous that Fred Shaw (Navigator), years later after seeing a Glen Miller movie remembers bombs striking the plane. At the time it was broadcast all over England. He was just as popular with the British as with Americans. Think about it, with a combined speed of close to 300 mph, very low visibility, small plane, he's seen it flip over? It would have disintegrated. I think the idea of jettisoned bombs being responsible is crazy. I read the Ministry Of Defence report and neither the RAF nor Millers flight path was known.
A direct course to Paris would be over London and seems unlikely. With V1 and 2s plus barrage balloons London was a dangerous course. If I'd been the pilot I would headed for Dover and stayed well west of Calais as it was still in German hands. It was the shortest distance over water with flying conditions at that time. On one occasion I got too close to Calais and drew flak.
TIMING
Roy Nesbit Brit air historian stated by calculating local time which was daylight saving time, every thing would fit for Millers plane to be in the area at the precise time of bomb jettison. Roy failed to discover that we were on double daylight saving time. Check with any USAAF Group navigators or with Roger Freeman renown Brit air historian who authored several 8th USAAF documentaries. He missed no details. He will verify. That hour will put everyone at least 250 to 300 miles apart because the 8TH AAF flew formation from grouping to target and back to base we needed that extra hour of daylight. Ron Brown was puzzled by the statement that he landed before the Lancaster's took off. The correct statement was the Lancs landed before the Norseman took off.
ROUTE
Roy mentioned that the safe route over the channel would be the SHAEF shuttle. In the PBS Video a private pilot Sratton Richey demonstrated that by flying that route with an inaccurate magnetic compass you could drift over into to the drop zone. The fact of the matter was that the Norseman had a very accurate gyro compass and almost as many blind flying instruments as the B17. Julie Hicks grandaughter of Robert Noorduyn designer and producer of the Noourduyn Norseman got the information from her grandfather. I sent to Pete King Dec 15th mission report of 306 BG 423 Sqd to Kassel Germ. On that mission several B17's had to land at other fields because of bad weather. Tragically two B17's collided because of these conditions and 16 lives were lost.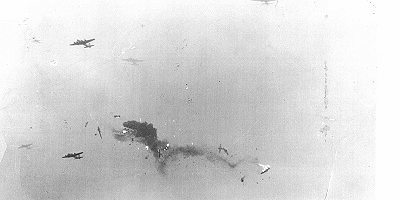 BOMBING
Ron Brown contacted a former Armament Officer concerning jettison. He stated the regulation was to drop armed on enemy territory and safe on allied territory. Did someone break regulations? It would be unforgiving not to report a plane going down. Knowing it was a Canadian plane it would more than likely be RAF or RCAF crew, regardless it would have provided closure for next of kin. Roy stated it wasn't necessary to report the missing plane as it was over and done with no hope for the crew, and yet as an historian he relies on these very reports for historical conclusions.
Referring to Shaws map, on which is marked the 'aborted' point, it would have meant 136 lancs did a 180 degree turn to proceed to the busy English channel and jettison their bomb load within a few miles of a VIP shuttle route. It surely would have been insane to have a drop area there.
Ron Brown said the mission he flew to Siegen was with the 75 New Zealand Sqdn based at RAF Mepal close to Cambridge. He said they dropped bombs as ordered in the North Sea which was the pre designated area. He said on that occasion they were in 9/10th cloud cover and just able to see their wing tips. All RAF personelle contacted including ROAF pilot Ken Blyth knew of no drop area in the channel, only in the North Sea.
CONCLUSIONS
It's most regrettable that now when Millers death is mentioned the RAF get the blame, instead of their heroic service. So many of them made the ultimate sacrifice.
There are so many intangibles to Millers flight being hit by jettisoned bombs it boggles the mind to think you could draw any conclusions. After being involved in the Miller controversy for a few years, I can't help but be sceptical of some of these so called recorded events.
The Glenn Miller saga will forever be a mystery.

see also Mail Correspondence for further discussion.

back to top